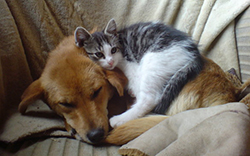 In the U.S. there are an estimated 6-8 million homeless animals entering animal shelters every year. About half of these animals are adopted, and tragically, the other half is euthanized. These are healthy, sweet pets that would have made great companions. These are not just the offspring of homeless "street" animals—these are also the puppies and kittens of cherished family pets and even purebreds. Millions of pet deaths each year are a needless tragedy. Spaying and neutering is an important part of the solution. Through spaying and neutering your pets, you can help your dog or cat live a happier, healthier, longer life.
All of us are affected by animal overpopulation. Millions of tax dollars are spent annually to shelter and care for stray, abandoned and unwanted pets. Much of that money is spent to euthanize these animals when homes cannot be found. Human health is threatened by the danger of transmittable diseases (including rabies), animal bites and attacks. Property may be damaged and livestock killed when pets roam in search of food. Animal waste is proving to be a serious environment hazard, fouling yards and parks. It is only when all of us assume the responsibility for pet overpopulation that we will see any decrease in the problem.
We strongly support efforts to construct a community animal shelter in Noble County to service the thousands of dogs and cats that we are currently unable to accept. However, currently we feel the next move for the Humane Society is to offer spay and neuter services to members of the general public who request lower costs for spay and neuter procedures. We feel these services are vital to support our mission to reduce the pet overpopulation in our community. This partnership with participating veterinarians will not only advocate spaying and neutering animals but will also strongly encourage pet owners to be responsible and comply with proper immunization laws and regular yearly vet visits to insure their animals stay healthy just like other members of their family.
One of our goals is to educate and stress to pet owners the importance of establishing a relationship with a local veterinarian for continual medical health care for their animals.
NOW LOOKING FOR SITE SPONSORS
Interested in being a site sponsor for Paws, Inc.? Email us here: sponsorship@ourshelter.com
ADD OUR TOOLBAR!
Add the PAWS – Humane Society of Noble County toolbar to IE or Firefox. Once you add the PAWS – Humane Society of Noble County toolbar for IE or Firefox, each time you shop at one of the more than 2,500 participating stores, a percentage of what you spend will be donated to us at no extra cost to you! (you could even save money as the toolbar provides coupons and deals). The toolbar also has a search box and each time you search the Internet, about a penny is donated to us. No registration is required! : https://www.goodsearch.com/toolbar/paws-humane-society-of-noble-county
WAYS TO HELP:

How To Help Us, While You and Fido Travel
Click here to use pet-friendly businesses while travelling. Use the code PAWSHSNC2019 in order to contribute to our cause.


Book a veterinary appointment with Vetary and give back to a pet shelter in need!